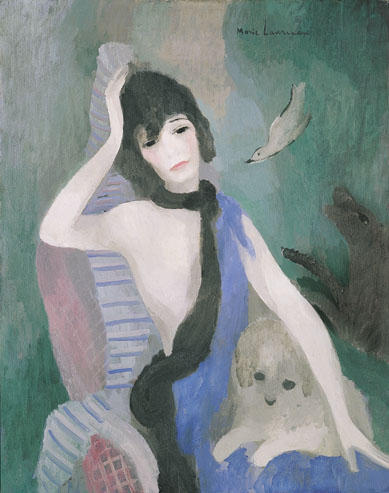 "In 1923 Laurencin was working on the costumes and sets for Les Biches (The Does) performed by Serge Diaghilev's Ballets Russes. Coco Chanel, who was creating costumes for the same company's Le Train Bleu at the time, asked the artist to paint her portrait. Laurencin painted Chanel in a languid pose draped in blue and black with one shoulder bare. The fluid lines, subtly shifting colours and the sitter's dreamy expression are typical of Laurencin's work, but Chanel – designer of 'the little black dress' and the Chanel suit – turned the painting down, saying it did not look like her. "
Um retrato talvez demasiado delicado para aquela que fez
calças para mulheres!
No entanto parece que era este retrato que encimava os esboços de Lagerfeld para a colecção Primavera/Verão deste ano.
Fonte:Runway